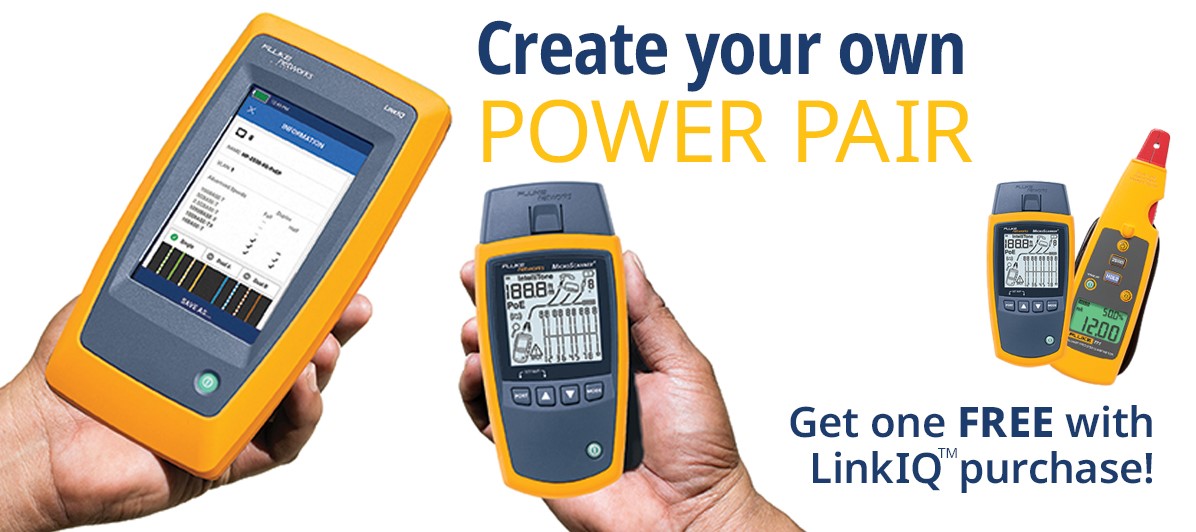 Get a Free MicroScanner™2 Cable Verifier or Fluke 771 Milliamp Process Clamp Meter
Two hands are better than one and sometimes you need a tester in each. That's why we are launching our new Power Pair promotion. Just purchase any new LinkIQ model or kit through participating authorized US or Canadian Fluke resellers (see list below) from December 12, 2022 and March 31, 2023 and add a second tool - free!
The LinkIQ Cable+Network Tester validates cable performance up to 10GBASE-T. The LinkIQ™ also provides IPv4 and v6 ping; nearest switch diagnostics (IP address, name, port / VLAN number, and advertised data rates); Power over Ethernet testing including loaded voltage and power tests). IE versions support M12X, M12D, and M8D cables for EtherNet/IP, PROFINET, EtherCAT and other cabling.
If you need an additional tool for testing Ethernet connections in the office or the factory, consider the MicroScanner2. It tests RJ45 and coax cables and displays results graphically to show opens, shorts, and crossed wires. Along with the length or distance to an open or short within the cable.
If you're supporting factory automation systems based on 4-20 mA signals, add the Fluke 771 . It measures low-level DC current signals without "breaking the loop" - to take systems offline. You can also use it to measure output signals from transmitters and even 10 to 50 mA signals in older control systems.
Participating Distributors