Request a DSX CableAnalyzer™ Demo
The DSX CableAnalyzer improves the efficiency of copper certification with unmatched speed for testing Cat 6A and Class FA while meeting DRAFT IEC Level V – the most stringent accuracy requirement.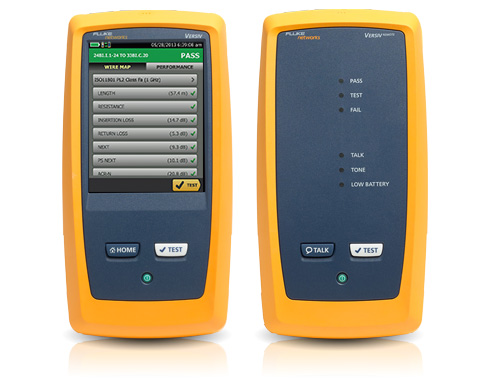 Unmatched speed for category 5 through 8, Class FA and all current standards (Cat 6A in eight seconds).
Future-ready design supports fiber loss and inspection, OTDR testing and hardware upgrades.
Integrates with LinkWare™ Live to manage jobs and testers from any smart device.
Taptive™ user interface simplifies set up, and eliminates errors.
Graphically displays the source of failures.
Meets TIA Level 2G – the most stringent accuracy requirements.
Endorsed by cabling vendors worldwide3.
New Industrial Ethernet kit provides complete testing for copper cabling from single pair to Cat 6A, and includes adapters for RJ-45, M12-D and M12-X.
Sign up for a demonstration with no purchase or payment necessary! Just fill out the form and a Fluke Networks representative will call to schedule a demonstration. That's it!
Learn More about the DSX CableAnalyzer
For additional information: Email: [email protected].
Phone 800-283-5853 (US/Canada) or 425-446-4519 (other locations).