Free eBook: Balance Measurements for your Network
Balance measurements help ensure networks will properly operate. The balance of the two conductors in a twisted pair is what cancels out noise injected into the cable. Balance is also responsible for preventing signal leakage from the cable. As we move to higher frequencies and faster data rates, cables are even more sensitive to noise, and ensuring good balance becomes more vital than ever. Passing balance measurements also ensure the network will deliver the PoE you need.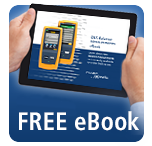 Download and Save the new Balance Measurements Handbook to learn about the extended suite of tests that assure support for PoE and 10GBASE-T, standard on the DSX CableAnalyzerTM.