OptiFiber® Pro Series OTDR
OptiFiber® Pro lets you quickly troubleshoot your fiber infrastructure without needing to interpret complex traces.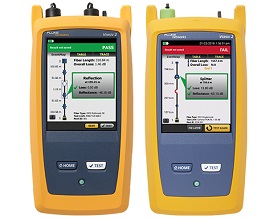 Core Capabilities:
Industry's shortest event and attenuation dead zones.
SmartLoop OTDR enables automated testing and analysis of two fibers in a single test, eliminating the need to travel to the far end of the connection to perform tests. See OptiFiber Pro OTDR SmartLoop™ Bi-Directional Averaging in action!
Expert Manual Mode – simplifies experimentation which allows you to zero in on the part of the trace that interests you.
The newest member of the OptiFiber Pro Series OTDR, OptiFiber Pro HDR, has a dynamic range up to 42 dB and adds new wavelengths for outside plant/FTTx/PON testing requirements.
Consult with one of our experts and we can help you to determine the OTDR solution for your needs.